Deposits and Withdrawals on ICCWIN
ICCWIN is an online gaming and betting platform, which helps you to convert your positive user experience into true money. Now the resource is rather popular in Bangladesh, also it's available in India.
ICCWIN provides a sports exchange, a sportsbook, a live casino, a virtual casino, slots, e-games, and other types of entertaining products. We offer generous bonuses and an affiliation program for both customers and influencers.
ICCWIN Payments for Bangladesh Users
To start winning with ICCWIN, you need to deposit your money at the site account. We cooperate with numerous professional and well-developed payment systems, so account replenishment goes fast and easily. We provide our user possibilities to deposit and withdraw money via their local payment systems. In Bangladesh, it is a bank transfer and digital finance services bKash, Nagad, and Rocket.
Our gambling platform adheres to international financial legislation. Therefore, to make an ICC WIN deposit or a withdrawal, you need to be registered and logged in to your account.
ICCWIN Deposit Methods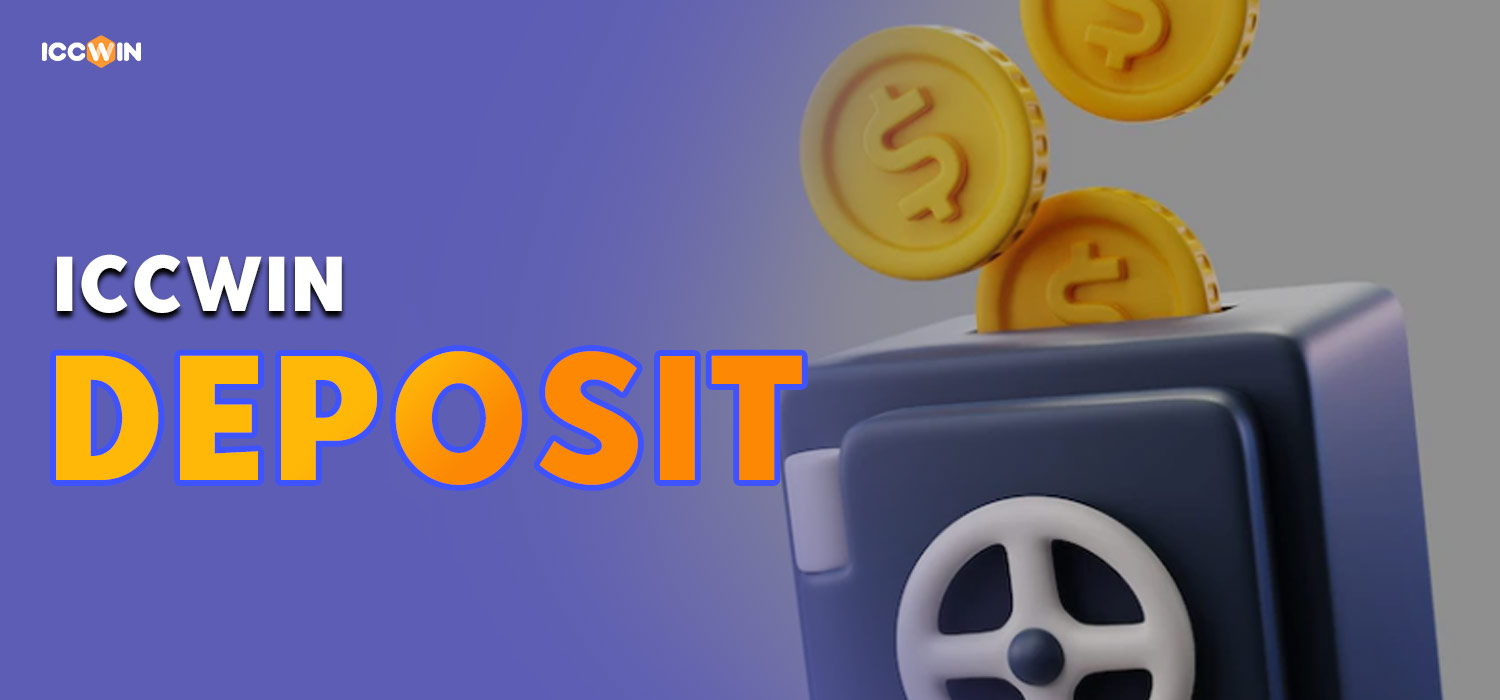 You can replenish an ICCWIN deposit via the web version or Android / iOS applications. All of them have the same user-friendly interface that allows you to confirm a transaction in a few clicks.
Deposit Instructions for ICCWIN
To deposit money to ICCWIN, follow these simple instructions:
Log in to your account.
Click the Deposit button near your profile icon, then choose the My Wallet tab.
Select one of the payment services, available for Bangladesh. You can compare their conditions and choose the best one in the table below.
Fill in the details required by your payment system. You may select a bank, and enter a credit card number or a digital wallet id.
Select the amount you want to deposit.
Click the Pay button. By this, you send your transaction into the processing stream.
Wait until the money will be transferred to your ICCWIN deposit.
Minimal Deposit Limits
The lowest limit for ICCWIN deposit is 200 BDT. But it's recommended to transfer 500 BDT and more, then you will receive a welcome bonus of up to 100%.
Draw your attention that payment systems can establish their own minimum transaction amounts that can be bigger than current ICCWIN ones.
Replenishment Methods
For Bangladesh there are 4 available ICCWIN payment methods:
Credit card via online banking. This is the most convenient, but the most regulated method. Your bank may reject your transaction to a gambling site, but this problem can be solved by a bank support manager. To use this option, you have to attach credit cards (maximum 2) to your account.
Digital wallet bKash. A fast and easy payment system, where a transaction usually takes less than a minute.
Digital financial service Nagad. It provides the lowest charges.
Digital financial service Rocket. A Dutch-Bangladeshi mobile banking project with the highest transaction speed.
Terms and Conditions of Replenishment
Though the minimum deposit is always 200 BTD, the sizes of maximum ICCWIN payment depend on the restrictions of the available finance systems.
| | Bank transfer (Sonali Bank) | bKash | Nagad | Rocket |
| --- | --- | --- | --- | --- |
| Min. deposit | 200 BTD | 200 BTD | 200 BTD | 200 BTD |
| Max deposit per transaction | 50,000 BTD | 25,000 BTD | 25,000 BTD | 25,000 BTD |
| Charges | 0-0.25% | 1-2.5% | up to 1% | 0.9-1.67% |
| Transaction term | up to 5 business days | minutes | minutes | seconds |
ICCWIN Withdrawal Methods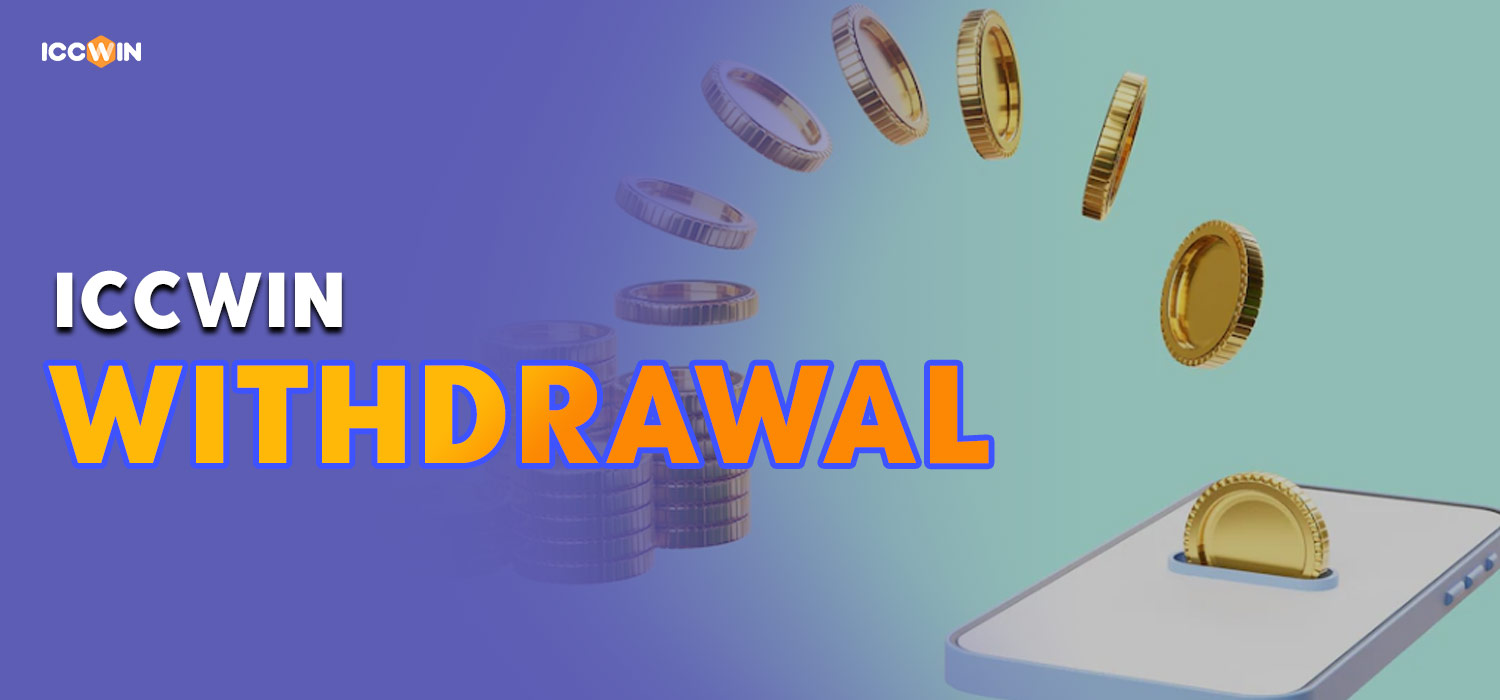 To withdraw your money, use the same payment systems set as when making ICCWIN deposit.
To prevent hacks and fraud, we placed additional restrictions. The payment system becomes available for ICCWIN withdrawal only after it was used for depositing money.
Withdrawal Instructions for ICCWIN
To make ICCWIN withdrawal, follow these steps:
Go to your account. Click the Withdrawal button at the top of the application window or click the profile menu and select Cashout.
You will be redirected to a new page with a payment systems list. Compare their significant features and choose the most convenient one for you.
Submit payment details. The amount you want to withdraw is obligatory, but the other data types may vary, depending on the system you have chosen. You may enter the wallet id, and your credit card number or use the attached ones.
Before making ICCWIN withdrawal check if the details are valid and belong to you, but not to third parties.
Confirm payment by clicking the appropriate button. After that, it will be passed to a transaction queue and will soon be processed by the financial department.
Minimum Withdrawal Limits
The least ICCWIN withdrawal amount is 200 BDT. Read about maximum sizes for different payment systems and pay attention to transaction charges.

The current limits and charges for payment systems available in Bangladesh.
| | Bank transfer (Sonali Bank) | bKash | Nagad | Rocket |
| --- | --- | --- | --- | --- |
| Min. deposit | 200 BTD* | 200 BTD | 200 BTD | 200 BTD |
| Max deposit per transaction | 50,000 BTD | 30,000 BTD | 30,000 BTD | 30,000 BTD |
| Charges | 0-0.25% | 1-2.5% | 0.9% | 0.9-1.67% |
| Transaction term | up to 5 business days | minutes | minutes | seconds |
*The actual minimum deposit of a payment system is given if it's bigger than a minimum ICCWIN one.
Withdrawal Time
ICCWIN withdrawal time mainly depends on your payment service. Focus on the terms of its conditions and add some time for processing your request by the ICCWIN team.
Bank services are slower. In most cases, transaction confirmation takes hours, a bit longer during days off and holidays. It takes a few days if a bank faces special circumstances, but never more than a business week.
Digital financial services bKash, Nagad, and Rocket claim they confirm transactions in minutes, but the minutes may turn out hours in special cases.
ICCWIN Customer Support
If you have not succeeded at making an ICCWIN deposit or ICCWIN withdrawal of your money, it's not a problem. Our casino provides professional and competent customer support. You can contact the support team 24 / 7 and get a profound answer to your question.
Sometimes an issue is caused not by ICCWIN software, but by a payment system. In this case, the manager will explain the situation to you and give advice.
There are 3 main ways to communicate with the ICCWIN support team: via email, online chat, and social media.
Email
If your ICCWIN payment problem requires a wide description, but is not very urgent, you should email [email protected]. The customer support team answers from 1 hour to 1 day depending on its work time.
To accelerate the process, compose your help request using these tips:
Write from the email address, which was used for registration. In this case, the support team will quickly find your transaction and additional information about it.
Fill the subject line of a letter form with a type of trouble you have faced. It helps to understand your request faster, find a quick solution, and send you an answer to exactly your question.
Describe as many details as you can. Write about the whole way you have passed before facing an ICCWIN payment problem, note exactly, what, where, and how did you do, and add screenshots.
Don't split one problem description into several emails. Different letters may be processed by different specialists, that wouldn't cooperate and may give you controversial pieces of advice.
Don't try to contact support, replying to ICCWIN advertising mailing and newsletters. They are sent automatically, and your reply won't even be received.
Keep calm and discuss your problem constructively. Money issues are painful for many clients, but their solving passes faster without emotions.
Online Chat
You need a consultation via online chat if your ICCWIN payment issue is simple to describe or you don't have time to wait. Find the Live Chat button at the bottom of the screen, click it, and start a conversation with a manager.
To speed up the process, follow these tips:
Describe your problem in a short and clear way. Write your email, transaction time, and amount.
Answer all questions exactly and correctly.
Try to remember your actions that caused a problem.
Social Media
You may apply for help in ICCWIN social media. Our administrators are on shift 24/7 and ready to answer you in Bengali or English.
| | |
| --- | --- |
| Telegram | https://t.me/iccwinofficial |
| Instagram | https://www.instagram.com/iccwin.co/ |
| Facebook | https://www.facebook.com/iccwinofficial/ |
| Twitter | https://twitter.com/ICCWIN1 |
FAQ
Here are the most frequent customers questions and answers of support managers.
Can I use someone else's credit card for deposits and withdrawals?

No. All financial operations are allowed only to owners of cards and electronic wallets. You can transfer a necessary amount to your own wallet and then replenish your ICCWIN account.

Can I cancel an ICCWIN withdrawal?

A withdrawal can be canceled only before it has been processed. Contact the support team.

Can I have two or more accounts?

No. Using multiple accounts violates the ICCWIN rules. You will get a demand to delete excess accounts. If you refuse to do it, you will be banned.

Is ICCWIN licensed?

Yes, ICCWIN has an official Curacao license №GLH-OCCHKTW0712302019. This document allows providing sports betting and online gambling services. All ICCWIN customers are under the protection of Bangladesh and international legislation.